Winter pruning for fruit trees and berries
Apple and pear trees:
Low-stem fruit trees can be pruned well in winter and early spring
and you can bend the branches well now.
Why should a fruit tree be pruned?
So that:
- you get sweeter fruit
- get a better shape and a more stable plant
- Get more and earlier fruit on the tree and make it easier to pick them
- Prevent diseases better (cut off diseased branches, infections, etc. as soon as possible).
- You can optimise the lighting in older trees.
- rejuvenate older trees to a certain extent
Apply simple techniques!
Upright branches have the most growing power. Prune heavy branches at the top of the tree to get better lighting in the tree.
If a tree is growing too fast, it is best to prune and bend it so that the branches become horizontal.
The bending can be done in summer as well as in winter. If you bend the branches in July, they will soon take on a position. Never bend too far. This can cause the branch to break.
Also in July and August the new flower buds for next year are produced.
If you bend out the branches, you will have more chance of getting flowering wood, and thus fruits, next year.
Bending can be done by tying a weight to the branches or pulling them down with a piece of string and attaching them to underlying branches. (Be careful not to tie off these branches. It is best to do it with binding tube).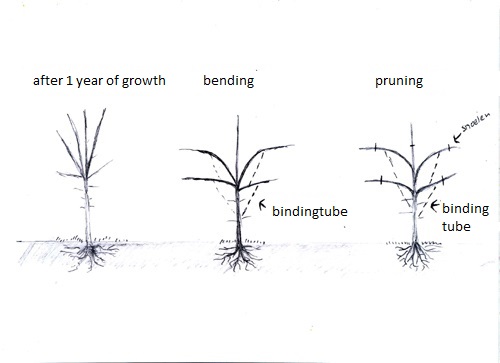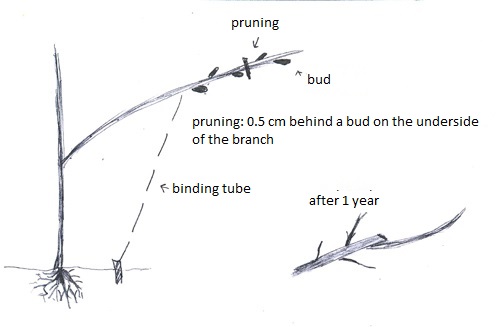 Plum and cherry trees
The purpose and technique of pruning is basically the same as for apple and pear trees.
Peach/Nectarine/Arikes
Pruning after picking, if there are no fruits on the tree, you can prune in August.

Blueberries
Do not need to be pruned. However, it is advisable to apply a thick layer of peat to the soil around the blueberries. And to give them sufficient water.
Walnuts
Walnuts only need to be tied in order to get a well-growing main branch if the tree needs to be taller.