Fruit hedges
Fruit hedges
What could be more fun and healthy than fruit from your own garden? Whether you have a large or small garden. A fruit hedge is always possible.
If you do not have a lot of space but would still like a variety of fruit in your own garden, then a fruit hedge of apple, pear trees, berries, raspberries or blackberries is an ideal solution.
The advantages of a fruit hedge:
1. Several varieties can be planted in a small area. This allows you to pick/harvest over a longer period of time.
2. A fruit hedge is easy to maintain. Picking and pruning can be done without using a ladder.
3.By planting trees on a weakly growing rootstock, fruit will appear quickly and the trees will also produce large quantities of fruit. Often, these trees bear plenty of fruit after just one or two years.
4. A fruit hedge can be planted on all types of soil. If the soil is less fertile, you only need to do soil improvement on a small area.
Appletrees which are suitable for a fruit hedge: Alkmene, Benoni, Cox, Danziger Kantapfel, Discovery, Dulmen Rose, Ecolette, Finkenwerder Prinz,
Glockenapfel, Glorie van Holland, Groninger Kroon, Ingrid Marie, Kaiser Wilhelm, Lunterse Pippeling, Notarisappel, Ontario, Pinova, Rode Boskoop, Roter Berlepsch, Rubinola, Santana, Sterappel, Topaz.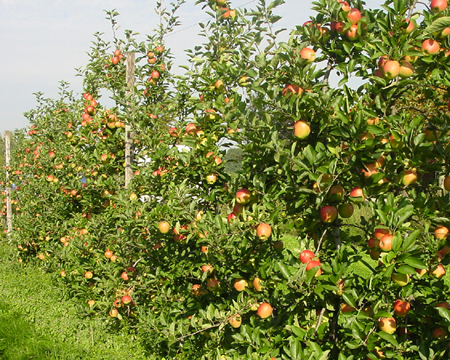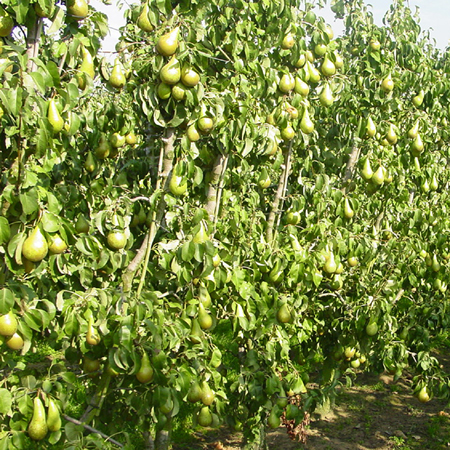 Pear trees which are suitable for a fruit hedge: Beurré Alexander Lucas, Beurré Hardy, Charneux, Comtesse de Paris, Concorde, Conference, Doyenné du Comice, Gieser Wildeman, Kruidenierspeer, Saint Remy
The fruit trees must be on the right rootstock for your type of soil.
Please check this by mail at Info@aatreeshop.nl